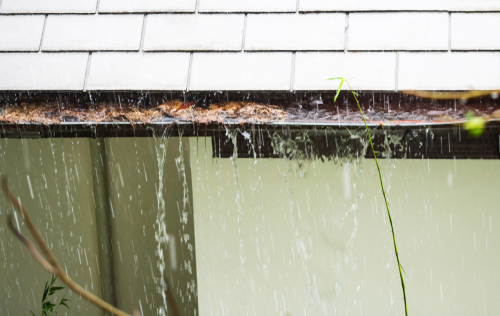 What Are the Causes of Gutter Overflow? 
Gutters may be an often overlooked part of the home, but they're crucial for keeping your roof and house in good shape. However, when you start to see signs of water damage to your roof or siding, it's likely that those gutters aren't performing as well as they ought to. One of the most common gutter malfunctions is overflowing, which can lead to pooling water or a damaged roof. Here are the three main causes of gutter overflow and what you can do about it. 
Why Your Gutters Overflowing
Gutters are Clogged
This is the most common reason for gutter overflow. Gutters collect all sorts of debris, and when there is too much at once, or if something is too large, it can stop water from flowing. The most common type of debris is plant matter, like leaves and sticks from nearby trees. If these collections of organic dams in the gutter aren't cleaned out, they can even attract pests like rodents and insects. Other things like lightweight trash (plastic bags, candy wrappers, etc.) and broken shingles can also clog up the gutters. 
What to do: Use a leaf blower, power hose, or your hands to remove dirt and debris from the gutters. If you cannot do this safely, it is recommended that you call in a professional to clean the gutters for you. 
Gutters are Positioned Wrong
For gutters to properly divert water away from the roof and house, they should be positioned so that the water flows quickly. For instance, the gutter's pitch refers to the slant heading to the downspout. If it is too steep or too flat, water won't flow as quickly. The water will also overflow if the gutter is tilted away from the house. 
What to do: Install a splash guard if the gutters are too steep or tilted away from the house. 
Gutters are Too Small
A final common reason your gutters may be overflowing is that they aren't wide enough to handle the amount of rainfall in your area. If you've already confirmed that the gutters are not clogged and are positioned correctly, your gutters may be simply too small for your needs. 
What to do: Upgrade your current gutters to a larger size. Look for aluminum as a lightweight option that will give you a wider channel. 
Keep Your Gutters in Great Shape
You can prevent overflowing and other problems by keeping up with regular maintenance. Here are a few things to think about when it comes to your gutters. 
Clean Them
Aim to clean your gutters out every six months or so. 
Keep an Eye Out
The best way to keep your gutters in great shape is to inspect them regularly. Spotting a small issue before it grows can prevent unnecessary costs and inconvenience. 
If you've discovered that your gutters are overflowing – and want to avoid getting on the ladder – contact the gutter pros at Reynolds Gutters. From maintenance to repairs to replacements, they'll make sure that your gutters are in good shape in no time!