Before you start pulling things apart, check how everything is installed and connected. Then you will know what kind of tools you need to get yourself started.
Remove the Downspout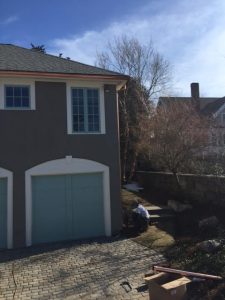 Begin by removing the downspout first. Remove the elbow where it's attached to the drop outlet on the gutter, and then the downspout will be easy to remove. It is important to do this first as removing an attached downspout will make gutter removal very difficult to do and it potentially create damaged fascia where the gutter is attached. The next step is removing the attachment strap that holds the spout to the siding.
Remove the Gutters
Once the downspout is removed, the next step is removing the gutter. Make sure any gutter hangers are removed by using the appropriate tools. This is usually done by removing screws or using a pry bar to remove nails. The gutter should be a lot easier to remove once done.
Repair Holes
Once the gutters and downspouts are removed, use Caulk to fill in holes that are left exposed. If the fascia was damaged, use wood putty to fill in the holes. Once dry, sand and repaint the wood.
Removing gutters can be dangerous especially if you are not well trained. Take precautions and hire a professional. If you are looking to get your gutters removed, contact us 978-927-5732 or fill in our contact form and we will get back to you very shortly.