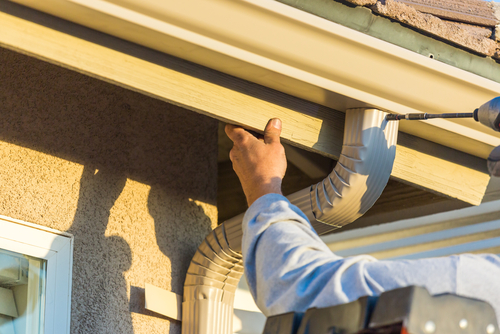 How Gutters Can Extend the Life of Your Roof
Gutters might not be the first thing that comes to mind when you think of what a home's structure comprises of, but they are actually one of the most important aspects of keeping the rest of your home in good condition. Gutters serve as the main source of protection from the elements for your entire home, but especially your roofing system. Here's why you want to make sure you invest in gutters just as carefully as you invest in your roof.
How Do Gutters Work?
While your roof works to eliminate rain from coming straight into your home, your drainage system comprising of gutters and downspouts is part of the process to redirect water away from the roof & structural foundation of the home. Gutters are the horizontal pieces of metal you will see attached at the edge of your roof working to catch water coming directly off of the roof, while downspouts are the closed vertical metal pieces that direct water towards the ground and away from the home.
Gutters and downspouts are strategically placed and attached so that the water will run away from the home and not back onto the roof, siding, or foundation. Without gutters, your home will suffer significant structural damage, potentially in the form of roof leaks, rot, flooding, and more.
Are My Gutters Working Properly?
It is important to have your gutters professionally installed and maintained to ensure they are working optimally. Remember to have your gutters cleaned out seasonally to avoid build-up of dirt & debris, which will cause clogging and flooding. One of the most obvious signs that your gutters need attention is if there is visible damage. If a piece of a gutter is hanging off, out of place, or bent, it's time to call in the experts.
Gutter Experts in Beverly, MA
In caring for your gutters, it is important to work with trusted industry professionals. Anyone can attach a gutter, but not everyone can do it properly, and even fewer know the best products to use. Reynolds Seamless Gutter has a team of experts with over 40 years of industry experience. We take pride in creating a customized gutter system for your home's build & style. For gutter cleaning, installation, or replacement in Beverly, MA and beyond, give us a call today! 978-927-5732