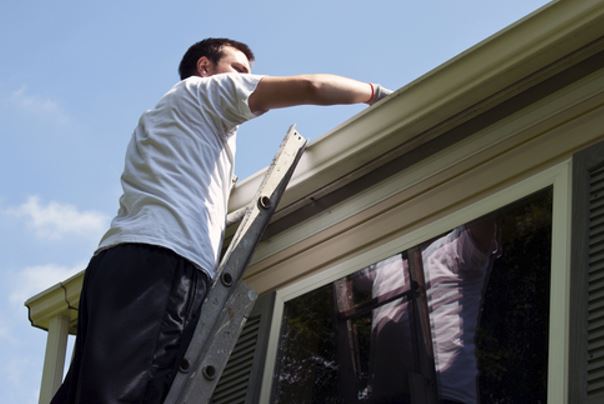 Cleaning Blocked Gutters and Downspouts
Gutters and downspouts are great for protecting landscaping and siding from excessive rainwater. Gutters and downspouts are great when they work the way they are supposed to, but due to accumulation of leaves, debris and sticks can cause the gutters to clog up and prevent the normal water flow. This leads to spillage, which can wreak damage to your entire house. Cleaning your downspouts and gutters is very important and should not be neglected at any cost.
How to Clean Gutters
Following are the steps involved in cleaning gutters. Follow these steps for best results:
Have a sturdy extendable ladder. The ladder should be placed on an even surface. Having a helper on site is always recommended to make the entire cleaning process safe.
Dress up for gutter cleaning, which means no loose clothes. Always wear a helmet and gloves before starting any cleaning project.
Using a small plastic scoop, clean all the gunk from the gutters. You can easily find gutter scoops from any hardware store.
Spread a tarp underneath your workspace to ensure no junk spreads outside the work area. A tarp will minimize the cleaning that you have to do afterward.
Once all the debris is cleared from the gutter, use a garden hose to flush out the entire gutter structure. Doing so will also serve as a leakage check.
Once you get the hang of it, the entire gutter cleaning process becomes much more manageable. DIY gutter cleaning is effective, but it cannot replace the cleaning done by a professional. Professional gutter cleaners have all the necessary skills and tools to do a thorough cleaning and bring about the desired results. As a bonus, hiring a professional cleaner means reducing the risk of personal injury.
If your gutter and downspouts are clogged, and you are looking for the best gutter cleaning service in your area, please feel free to contact us. Our cleaning process is extensive, and we believe in delivering results that the client wants.