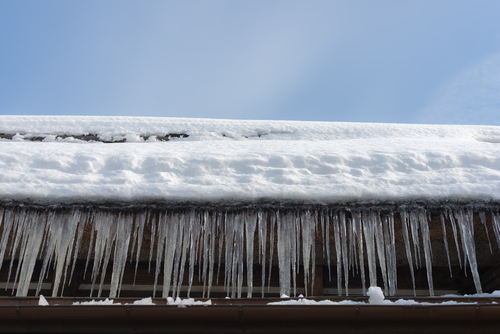 How to Prevent Ice Dams on Your Roof
The roof of your home is arguably one of the most important areas of the entire structure. Your roof is what helps keep you warm, dry, and protected from the outdoor elements. Protecting your roof should be high on your priority list! Areas like New England that have harsh winter climates tend to notice increased wear and tear on their roof. One of the most common winter-related roof issues are ice dams. 
What are Ice Dams?
An ice dam is exactly what it sounds like, a solid dam of ice! These ice dams form along the lower edge of your roof. Ice dams compromise the integrity of your roof and can lead to a variety of issues. One of the most common issues from ice dams is when water backs up behind the dam, seeping under the shingles and leaking through your roof. This will lead to serious structural damage if it is not noticed and fixed quickly.
What Causes Ice Dams?
Ice dams occur as the higher points of your roof begin to warm and the snow melts, but the temperature outside is too cold to melt the top layer of ice & snow. As the snow melts underneath, the water runs down your roof and gets trapped, creating an ice dam. 
Prevention with Insulation
Insulating your home is a great way to help prevent heat from escaping and prevent the formation of ice dams. Insulating the attic or second story of your home that touches the roof will prevent heat from rising within the home, melting the snow at the top of the roof. Without that interior heat rising, the snow will melt at a slower pace and allow it to drain without forming an ice dam. Gaps around plumbing and electrical connections in your home can be a cause of heat that reaches the roof too, so these areas should also be insulated. 
Prevention with Ventilation
The best way to prevent ice dams is with ventilation. In fact, houses with proper ventilation rarely experience ice dams. Ventilation to prevent ice dams refers to the ventilation around your rafters that are on the interior side of the roof. By ventilating the rafter spaces, you're keeping them cool enough to prevent the snow on the roof from melting. If your home lacks proper ventilation, you'll probably need the help of an expert to improve ventilation. 
Ice Damn Prevention in Beverly, MA
Contacting a professional gutter cleaning service is the best way to clear anything that will encourage an ice dam to form. Having clean gutters means having plenty of space for water to flow as the snow melts, instead of sitting where it can refreeze! Reynolds Gutter can resolve your ice dams and prevent them from happening in the first place, with decades of experience under our belt. Contact us today to talk about gutter services for your Massachusetts home!