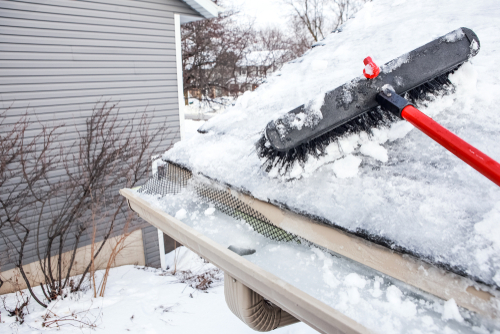 How To Get Rid Of Ice Damming And How To Avoid Them
Ices are cool, but they are not friendly with home roofing. Ice dams are hazardous and can cause many damages to your property, especially when left to dissolve by themselves. It is necessary to take the initiative while you still have the time if your home is prone to ice dams. If allowed to accumulate, it will be challenging to stop the buildup from adversely affecting your home. 
You can prevent this from happening with the tips below.
Heated Cables
There won't be room for ice dams to form if you have heated cables installed on your roof. You can do this before winter comes around. So when the snow starts falling, it melts as soon as it gets to the roof. The installation should be zip-like, standing tall on your roof. Installing heated cables is not difficult if you have the clips to pin them to the roof. It would be best if you do this before winter.
Cold Air Works Fine
The heat from hot air in a home is responsible for ice dams that could wreck your shingles. While the cold roof edges hold the sliding snow, you can direct your fan to prevent it from refreezing. Ice dams won't have the opportunity to form when you cool the roof underside. It is one of the easiest ways to prevent snow formation.
Insulate your Attic
The attic is more than a storeroom in the house. It has implications for both the interior and exterior of your home. Your energy expenses can reduce significantly if you have your attic insulated. You can also prevent ice dams for the same reasons. The heat in the lower floor stays intact as there are no leaks in the attic to let it escape.
Folding Stairs Opening
As much as you need to keep every leak in the attic sealed, so you have to insulate the openings in the folding stairs. It ensures that heat doesn't find a way into the attic. Apart from preventing ice damming, it also helps to save up on energy. It offers double benefits, which seems to be too good.
Use Ice Melt Products
Ice melt products containing calcium chloride deicer is another option you have to get the ice dam off your roof. If you have plants in your garden, it is necessary to keep them protected from calcium chloride. Exposure to the chemical can kill the plants. Calcium chloride eliminates ice dam immediately it gets to the top of your home.
Conclusion
The solution above is ideal for preventing costly damages in your homes. However, it is possible to find it challenging to deal with ice dams. Reynolds Gutters is a professional for getting rid of the ice dam from a rooftop.