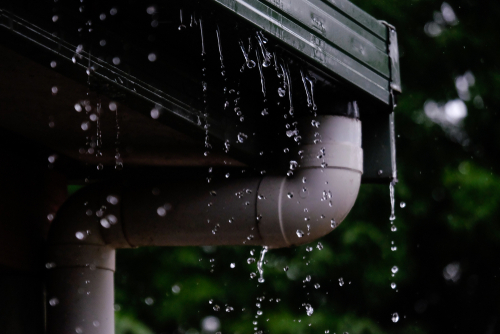 4 Causes for Overflowing Rain Gutters
Rain gutters are an essential part of your roofing system and play a big in protecting your home from water damage. Overflowing gutters can cause a number of problems for homeowners, by damaging the interior and exterior of their home, which could prove costly.
Excess Rainfall
An overabundance of rain can be too much for a small gutter and simply cannot handle the volume of water flowing down the roof. If your gutters tend to overflow during heavy rainfall, you need bigger gutters installed on your home in order to be prepared to handle significant rainfall.
Limited Amount of Gutters or Downspouts on Your Home
You may find that being short on gutters or downspouts to adequately cover every side of your home can put pressure on the other portion of gutters. Overworking the existing gutters can lead to water overflow because there is not enough room available for the water to flow. Solving this issue requires one of two things, either adding additional gutters to the current to handle the rain or get new gutters capable of handling high capacity rainwater. The downspout can be fixed in the same manner as well to prevent overflow.
Clogged Gutters
A clogged gutter can cause the overflowing of rainwater, stemming from debris accumulation, like leaves, spoiled dirt, and other organic debris. This debris blocks the gutters and prevents rainwater from flowing through them and out the downspouts like it should. The water spills over and causes damage to your home's siding, fascia and foundation and even causes ice damming. It is also possible for mold to develop, which can become a serious health hazard for you and your family.
Clogged Downspouts
Clogged downspouts are impacted in much the same manner that clogged gutters are, and unfortunately, it can cause are a hazard to the exterior of your home. Blocked downspouts will overflow if water cannot get out. Needed is an oversized downspout that will channel water away from your home.
Gutter Maintenace in Beverly, MA
For your gutter maintenance needs, Reynold Gutters offers advanced gutter protection systems and dependable service. Reynold Gutters is committed to quality and customer satisfaction and ensuring that you have effective roof drainage year-round.