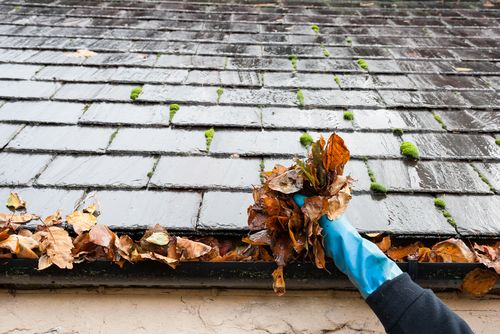 How to clean out the gutters by yourself
It's time again, Fall is here, and leaves are slowly falling into our gutters. If you're quite handy around the house, you could save some money by cleaning the gutters by yourself. Learn how to clean your gutters and follow our instructions.
Pre-Clean Gutters. Use the ladder and place on an appropriate position where you're able to clean the gunk out of the gutters. Pay attention to your downspout as leaves and debris could clog up, and the water won't drain properly, which ends with having sagging gutters.
Check Gutter Spikes. If your gutter spikes are looking worn out, it's best to replace them before winter arrives.
Cheak for Leaks. It is important to check for any sources of potential leaks, including holes in the gutters and cracked/peeled caulking in the seams. To remove caulking, use an old chisel and the dry area thoroughly. Use bead silicon sealing to prevent any water creeping at the back of the gutters and rot the boards.
Check Rivets. If you are planning to sell your home, check for any loose rivets on the downspout, you want to show that you have taken good care of your house.
Clean the Gutters with Pressure Washer. Once you have finished with the mechanic side, it's time to deep clean those gutters. Pressure water will get the best results for your gutters.
Maintenance is crucial when keeping your home secure from harsh weather, especially if you live in New England. If your gutters are looking worn out, slowly rotting, or you're unable to reach up and clean your gutters. Consider hiring a local professional to do the job for you. Our team at Reynolds Gutter have been the leading gutter contractors in Beverly for 30 years. We can safely say that we know what we are doing. For more information about our Gutter services, get in touch and contact us at 978-927-5732 today!