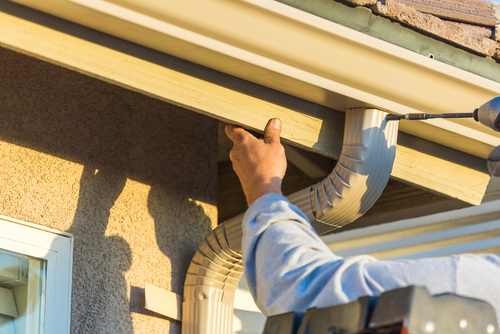 5 Signs you need new gutters
Gutters make sure your home is safe from any ground, and rain water is drifted away from your home. Without it, more and more water will seep through into your building's foundations and walls. If your house foundation is built around wood, this could be a big problem as water seepage can cause the wood to rot at a fast pace. Here are some signs that your gutters may not be doing their job and may require replacement.
Cracks. No matter the size of the crack, gutters will not be able to do its job when there is the slightest bit of damage done to your gutters. This could lead water to flow at any direction which could cause more damage to your landscape or house exterior. While some cracks can be repaired, extensive cracking will need a replacement.
Peeling Paint. Paint on gutters should be able to withstand normal wear and tear that occurs. If you start to see the paint peeling off or small orange speckles, which indicates rust. This shows signs that the water is not properly being expelled by the gutter properly and needs replacing.
Water not pooling in your gutters. If you find water stagnant in your gutters, you may want to check out the flow or installation of the gutters to make sure that the structure was built properly. These can be easily fixed but if it continues, contact your local gutter contractor to solve the issue.
Mold, Mildew or dirty build- up. If you find any mildew or moisture problems around your home, whether it be the home exterior or the basement, this could be a sign that you have a leak in your gutters, which needs to be inspected by a professional to clarify the problem.
Gutter seams detaching from the house. Over time, without proper maintenance, gutters will eventually pull away or sag due to wear and tear or uncleaned debris. Once the gutters or downspout are detached, it is difficult to assemble back on. If you do not contact a gutter specialist, further damages may arise which could cause you more money.
A common mistake homeowner make is neglecting their gutters. If any of the above has occurred to your gutters, get in touch and contact us right away!