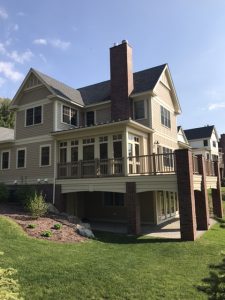 If you are looking for a home gutter installation or removal job, consider hiring Reynolds Gutter. We have been the leading contractor throughout Swampscott for 35 years. We are confident to say that we know what we are doing and that you are in safe hands. Our team at Reynolds Gutter are reliable, efficient, and detail orientated.
Swampscott is a town in Essex County, Massachusetts. With a population of 14,000. There are always homeowners looking for our services. Please continuing reading about services.
Our Services:
Gutter Installation Swampscott, MA
New England's weather can unpredictable especially during Fall and Winter. If you do not have a gutter system for your home, now is the time to start considering it. Gutters help structure the mainstream to the destination.  Not having properly installed gutters can potentially cause damages to your home roofs, siding and even worse, your basement! For more information about our services, please feel free to get in touch and contact us at 978-927-5732
Gutter Cleaning Swampscott, Ma
Cleaning Gutters can be a dangerous job, especially if you have gutters that you can't reach. We recommend contacting your local Gutter contractor to take a look and find the solutions to your Gutter problems. Please check out our Gutter cleaning page to understand how we tackle your gutter issues.
The team Reynolds Gutter are reliable and dedicated to what they do, and with over 35 years of experience, we can safely say your gutters are in good hands. For more information about Reynolds Gutter, feel free to reach out to us at 978-927-5732 or fill in our online form on the right.