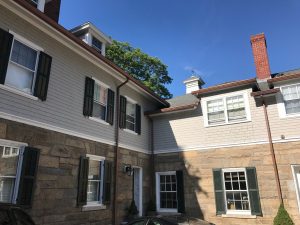 Salem is a coastal city in Essex County, located in Massachusetts. It is a New England bedrock of history and is considered one of the most popular spots to visit during Halloween. It is why Salem, has attracted more and more tourists each year. With a population of over 41,000, Reynolds Gutter is more than happy to continue their Gutter installation, removal, & cleaning services here in this historic town for many years.
Our Services:
Gutter Installation Salem, MA
Are there any signs of cracks, pooling, leaks in your gutters? You should act right away and contact your local gutter specialist to inspect any issues that can cause damages to your house exteriors or basement. Let us take a look for a free consultation, and we will share our knowledge with on how to tackle the issue at no extra cost!
Gutter Cleaning Salem, Ma
One of the most common mistakes homeowner fails to maintain is gutters. A debris-clogged gutter can cause a leaky roof or water damage to the interior or exterior of your home, which can essentially cause you more headache and more money than you first anticipated.
The team at Reynolds Gutter are reliable and dedicated to what they do, and with over 35 years of experience, we can safely say your gutters are in good hands. For more information about Reynolds Gutter, feel free to reach out to us at 978-927-5732 or fill in our online form on the right.