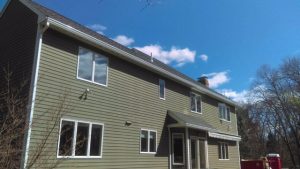 Danvers is a town in Essex County, Massachusetts located on the Danvers River near the northeastern coast of Massachusetts. Originally known as Salem Village, the town is most widely known for its association with the 1692 Salem witch trials and a popular tourist visit in October. Reynolds Gutter is proud to provide professional Gutter installation, removal, repair, and cleaning services to the community of Danvers.
Our Services:
Gutter Installation Danvers, MA
If you do not have a gutter system in your home, you are potentially looking for a lot of problems. It is easily overlooked by homeowners which is a big risk as it can cause damage to your home exterior or even your basement. By installing, gutters will not only protect your house from heavy weather conditions but also add more value to your home.
Gutter Cleaning Danvers, Ma
Gutters need to be maintained, if you're a handy kind of person in the house, you could save money.  However, if you are not, you should get in touch with a local gutter contractor to take a look and see how it can be cleaned right away. The longer you leave your gutters uncleaned, you could be clogging up your downspouts which will leave the water nowhere to go but up which may get messy.
The team Reynolds Gutter are reliable and dedicated to what they do, and with over 35 years of experience, we can safely say your gutters are in good hands. For more information about Reynolds Gutter, feel free to reach out to us at 978-927-5732 or fill in our online form on the right.