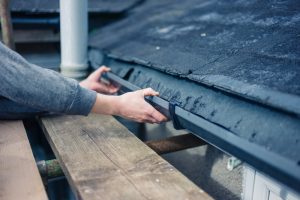 Known for its excellent school system, high-quality town services, and active community. Reading Massachusetts is a well-presented town, and Reynold Gutters has had the privilege of building a healthy relationship with the residents here for many years.  Whether you are looking to have your gutters inspected, cleaned, installed or replaced, consider hiring Reynold Gutters as your go-to contractor. With 40 years of experience, there are not many complicated projects we have yet established so you know your home is in safe hands with us. Check out the popular services we have to offer in Reading, MA.
Our Services:
Gutter Installation in Reading, MA
Is it time to replace or install new gutters to your home? Winter can be brutal here in Massachusetts so inspecting your gutters is highly recommended at least twice a year. One after the Winter, and one during Fall. When was the last time you had yours checked? Any clogged debris neglected can build up in your gutter system and prevent any water flow. Don't leave it until too late and schedule an appointment with us now. Call today to learn more at 978-927-5732.
Gutter Cleaning in Reading, MA
When it comes to gutter cleaning, no one gets it done like Reynold Gutters. Our goal is simple, to save you time, money and trouble when it comes to gutter cleaning. We have the top of the line equipment to get that nitty-gritty debris out of the gutters and downspouts, so you don't have to. Unsure if your gutters need cleaning? Don't take the risk inspecting yourself, seek a professional and call today!