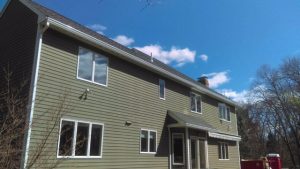 As a leading contracting company in the north shore of Massachusetts, we are proud to continue our services in our hometown Beverly, MA. With a population around 40,000 residents and 16,000 households, there are always homeowners looking for our services. If you are looking for home exterior improvements, please feel free to get in touch with us today for a free estimate!
Our Services:
Gutter Installation Beverly, MA
Are your gutters worn out or damaged? If yes, then you should really consider hiring a contractor especially if you live in Massachusetts. The weather can be unpredictable, and the last thing you need is problems coming from your house. Replacing or installing new gutters can go a long way, home protection, and less maintenance. Have questions with your gutters? Give us a call and we will assist in any way we can.
Gutter Cleaning Beverly, Ma
Did you know your gutters need maintenance at least twice a year? Cleaning your gutters are easily neglected, however, this can potentially cost you more than you had first anticipated if you do not take care of them properly. Gutter cleaning can be dangerous and if you are not very home equipped, it's best to call a professional to do it for you.
The team Reynolds Gutter are reliable and dedicated to what they do, and with over 35 years of experience, we can safely say your gutters are in good hands. For more information about Reynolds Gutter, feel free to reach out to us at 978-927-5732 or fill in our online form on the right.